StereoPhoto Maker (English)
French

, German

, Japanese


StereoPhoto Maker(SPM) functions as a versatile stereo image editor \ viewer and can automatically batch-align hundreds of images and mount them to the 'window'.

It may be run on all versions of Windows and PowerPC and Intel Macs (with emulation or virtual-machine software).
StereoPhoto Maker on Mac (for Mac OS Sierra)

It also allows users with no knowledge of HTML to create WebPages using the 'StereoPhotoViewer Applet'. You simply upload the contents of the applet-project to a Server using a freeware FTP program. More experienced users can create the entire webpage themselves or amend the file produced by SPM.

StereoPhoto Maker Pro Newly released (20/May/2020)
I think the conventional version (32bit) is more stable, but the Pro version (64bit) has cooler icons and can handle larger images.
If you have any feedback on the StereoPhoto Maker, please post it on this board.
Download;
StereoPhoto Maker Pro (64bit) Ver6.10 2924KByte 12/Oct/2020
StereoPhoto Maker (32bit) Ver6.10 1726KByte 12/Oct/2020
StereoPhoto Maker Ver4.34 include help file 24429KByte 10/JUL/2011
Online help
A very useful 'SPM Beginner's Guide' , 'BeginnersSPMGuideIllustrated_FujiW1_V3' and 'SPM Clone Tool Instructions' has kindly been provided by David Starkman, and 'Stereo Cards(ProShow)' or 'Stereo Cards(PDF)' by David Kuntz, and 'An illustrated Beginner's Guide to StereoPhotoMaker' by ©StereoDoro.

Ver6.09->6.10
- The transparency setting was added to 'Menu -> Edit -> Add Logo Image' function.
- Fixed a problem with a crash in the ability to 'Menu -> File -> Make Animation GIF'.

Ver6.08->6.09
- Improvement of the problem that the Multi Conversion dialog is not fully displayed on the low resolution screen of a notebook PC, etc.
- Added "Can specify an cropping area from outside the image" option to the Free Cropping Option

Ver6.07->6.08
- RED Hydrogen One camera image loading support(Left image+depth,Right image + depth or Left and right images)
- Added the ability to create 2x2 tiles from 4 parallax images for RED Hydrogen One
Tutorial on Youtube

Ver6.06->6.07
Improved performance and preserved settings for stereo video playback
Editing/displaying 3D video in Stereo Photo Maker (SPM)

Ver6.05->6.06
Added a conversion function from frame-packing 3D video to half-SBS format
With this addition, you can now play back 3D videos (MTS) shot with Panasonic 3D1 or 3D180 videos shot with Insta360 Evo and created in Insta Studio using SPM for stereo video playback.

Ver6.04->6.05
Added the function of creating a 3D movie/still image viewer web applicationYoutube instruction
Added stereo video preview featureYoutube instruction
The video preview feature of SPM uses IE components. You can play the video in stereo if IE can display both sides of the video, but unfortunately, this preview doesn't work for the video that only plays one side of the video.
IE seems to show only one side of the image if it examines the file and finds it to be 3D. It's totally troubling.

Ver6.03->6.04
Fixed a problem that the file name sequential numbered still image could not be converted to video when the width was an odd number. Also, resizing has been enabled.
Added the ability to specify the start time when extracting audio from a video
In order to use the movie function with StereoPhoto Maker (SPM), it is necessary to put ffmpeg.exe in the SPM folder.
Download FFmpeg(official site)
FFmpeg Builds

Ver6.02->6.03
Fixed a problem that could not be converted when you select only one file to convert the selected file in multi-conversion.

Ver6.01->6.02
Minor bug-fix

Ver6.00->6.01
Fixed a bug that only half of the files are processed when 'Multi job' is checked in 'multi conversion'.

Ver5.52->6.00
StereoPhoto Maker Pro(64bit) newly released
Added mirror mode to HTML5 stereo viewer.

Ver5.50->5.52
-Add "Force square" option to Image with border setting
-Made it possible to activate image with border with the tool button
-Added black and white binarization

Ver5.41->5.50
Up to now, the maximum number of files that can be processed by multi-conversion was 2500. This version removes this limitation.
(Internally, it's a big change. If you find a problem please let me know)

Ver5.40->5.41
Added "Image with border (SBS, LR/RL, L-R-L)" as a new stereo display format

Ver5.31b->5.40
Add "Round Corners" and "Fuzzy gradient" options in "MENU->File->Save Universal View->Border setting"
Make German version by Werner Bloos

more history ...

Great thanks to David Sykes for the English-language documentation.
Samples;
Stereo Photo Samples 1
Stereo Photo Samples 2
Popup Anaglyph Samples
Auto Alignment Sample Images

Editing/displaying 3D video in Stereo Photo Maker (SPM)
Auto Alignment(autopano)
Batch Auto Alignment of Stereo Pairs using Autopano or Autopano-sift
Create 'wobble' or 'wiggle' animated GIF's
Associating with InternetExplorer
How to create Popup Anaglyph
Using twinned-cameras with SPM
Running two Instances of 'Open Image file list'
'Add Overlay Image' feature
Viewing Mirrored Images with Single Monitor
Print Stereo Card...
Alignment mode
Resampling mode
No Jpeg Compression Ghosting for Anaglyph
Automatically adjusts an image to the color/brightness
HSL (hue, saturation, lightness) color-adjustment mode

Most stereo-viewing methods are supported together with a monoscopic mode:-
- Autostereoscopic displays using vertical interlacing
- IZ3D monitor, Sharp 3D LCD, 3D DLP TV.
- Single 2D image (useful for saving or printing)
- Freeviewing (Parallel-eyed or Cross-eyed)
- Color anaglyphs or Grayscale anaglyphs (red-cyan, red-green, red-blue, yellow-blue with gamma correction)
- Liquid Crystal Shutter Glasses (horizontal or vertical Interlacing or Page Flipping) currently requires Winx3D , the NVidia Stereo Driver, NVidia 3D Vision or a graphics card supporting quad-buffered OpenGL.
Winx3D is no longer available from the original website.
This was discussed on 'stereo3d' forum and a Link given for the archived documentation.
Alternatively, RivaTuner may be used to patch an NVidia GeForce to a 'Quadro' making OpenGL stereo and other 'professional' features available.
OpenGL stereo is the only mode that lets you display a stereo image in a normal window.
You can open multiple instances of SPM to create many stereo windows that may be aligned, moved or resized.
For the NVidia link, ensure your browser Java-scripting is enabled and in the three columns
select 'Consumer3D Stereo', 'All Graphics Cards' and 'Windows98/ME/2000/XP'before clicking 'Go!' .
You can also download the NVidia Stereo User Guide.
Run the NVidia tests to determine the fastest refresh-rate for your monitor at each required screen-resolution.


Runtime Options
SPM may be opened from it's Icon, a shortcut, dragging-and-dropping an image or image-pair onto the icon or already-opened window, from a batch-file or by file-extension association.
Associate a file extension with SPM and open in a window or fullscreen with preferred viewing mode.
Command-line options allow you to specify an image or an image-pair or start a slideshow.
The SPM Program-window may be maximised on startup if desired.


Image Viewing
Support for MPO files, as used by the Fuji Real 3D digital stereo camera.
User-defined grid-overlay in all stereo viewing modes except page-flipping.
Create 360 degree stereo panoramas using a single rotating real or virtual camera
Auto-scrolling of horizontal and vertical stereo Panoramas. See animation
Continuous rotation of 360 degree stereo panoramas (without requiring quad-buffered OpenGL graphic-card)
Use a household mirror to encourage the general public to enjoy stereo images without freeviewing or anaglyph glasses
Select screen background color
Define a tricolor image-border and Show/Hide it from the toolbar
Add stereo, drop-shadow text to image
Add a stereo logo to the image
Save/restore all settings associated with a default text (such as a © Copyright notice)
Save/restore all settings associated with a default logo
Zoom In and Zoom Out (operated with mouse wheel)with resampling OFF (for speed) or ON (for image quality).
Image Scroll (operated with mouse drag)
Left-Right Image swap
View vertical panoramas of planetary surfaces
Support for a two or three-button mouse


Image Manipulation
Project stereo image onto a sphere.
Single or multiple floating windows to reduce anaglyph ghosting problems
Create images for display on 3D-ready DLP TV's.
Clone brush to adjust stereo depth of incorrectly positioned features.
Automatically align and correct stereo-pairs and mount them to the window.
Automatic cropping of blank space after certain Easy Adjustment operations.
Image may be corrected for vertical disparity error with a resolution of one pixel and positioned in stereo-space.
Reduced ghosting for anaglyphs using realtime Lab and RGB color-space controls.
Manual color-adjustment in realtime using HSL color-space. Work on entire color-range or just a particular hue.
Fuzzy Borders may be added to reduce retinal-rivalry caused by stereo-window violations.
Automatically adjust the brightness/color of one image to a correctly-exposed reference image.
Define a pair of homologous points that SPM will automatically position at the stereo-window, correcting any vertical error.
Add Overlay Image to your background for decorative framing or simple stereo-compositing.
Create a Popup Anaglyph still-image or object-movie for print or flat-screen viewing.
Custom Optimization of Anaglyph R,G,B mixing and contrast.
Save and Restore Custom optimized anaglyph parameters.
Save a JPG anaglyph with no compression ghosting.
One or both images may be mirrored horizontally or flipped vertically to accomodate any custom/commercial taking and viewing equipment.
Image frame may be rotated 90 degrees left or 90 degrees right or image-pair may be rotated within frame by any angle.
Hue, saturation, lightness and gamma of the individual images may be altered.
The images may be sharpened
Crop the image to any size or to one of five custom-sizes
Crop the image to a user-defined aspect-ratio
Accurately crop large, zoomed-in images (such as panoramas)
Resize using pixel-resize or bilinear interpolation, retaining aspect-ratio if desired
Resize image in fine increments of 0.1% (useful when using cameras in tandem or correcting lens mismatch).
When resizing, retain aspect-ratio with or without a border
Automatic correction of image-rotation errors
Manual correction of image 'keystone' errors.
Manual correction of barrel-distortion, especially in wide-angle lenses
Overlay a user-defined grid on images in Easy Adjustment mode
Edge-detection filter to simplify image-correction or for creating a pictorial effect
Alignment information may be saved in SPM's own uncompressed DAS file-format
Mosaic image-strips (produced by a stereo, virtual camera in 3D Rendering programs) into panoramic images


Universal Freeview L-R-L to provide website visitors with parallel and cross-eyed viewing options.
Convert MPO files(as used by the Fuji Real 3D digital stereo camera) into other formats for alternative viewing methods.
Extract the separate left/right images from MPO files.
Convert existing JPG images to MPO files for viewing on Fuji W1 camera or V1 viewer.
Dual processor support
Formating of images for digital projection.
Lossless Creation of LRL or RLR side-by-sides triplets from existing JPG images.
Fully-automatic correction and mounting to the window of hundreds of images, including support for dual-core processors.
Correction of barrel-distortion using previously-determined parameters for a particular focal-length.
Lossless Jpeg Multi Conversion applies swapping, joining and rotation to JPG images completely without loss.
Embed a correctly-orientated thumbnail image in saved JPG images so that 'Windows Explorer' displays them properly.
Multiconvert multiple left/right files to SPM's own uncompressed DAS format.
Use the clipboard to copy or move your favorite images between folders.
Quickly scan a folder of images in your chosen stereo viewing-mode and delete selected ones or copy or move them to a chosen folder.
Automatic Color Adjustment.
Open the contents of two folders in separate,side-by-side windows and synchronously scroll the columns for stereo-comparison. The columns may be single or multiple-image wide.
Embed Exif orientation tag in any JPG image (digicam or scanned film) from twinned cameras
Correct Loreo 'Lens-in-a-cap (LIAC)' images.
Add/Delete or restore a thumbnail to existing JPEG images for fast folder preview
An efficient Batch Processing Workflow allows you to quickly generate numerous stereo formats in various file-types.
Add stereo text (such as a Copyright notice) to individual or batch images and against a colored banner.
Add colored drop-shadow to text for greater visibility with some images
Overlay custom Logo directly on image or on a colored banner-zone and with transparency.
Batch Stereo-Format Conversion
Add tricolor borders to Save'd images in a different style to screen borders
Batch generation of stereo images from alignment-corrected browsed images.
Multi-rename all or selected image files in a folder
Full renaming of digital camera files with option to retain original frame-number


Slide-Show Script automatically created using images from current folder
Create a custom slide-show with mixed stereo-formats and optional sound
Create a runtime slide-show package that users can easily start with a click of the mouse


Print your image actual-size or fitted-to-paper and automatically centered.
Add tricolor borders to the printed image in a different style to screen borders
Print (or save) stereo cards in custom-format or 'Classical' (Victorian round-top frame and sepia toning if desired).
Stereo-card images saved-to-disk may be printed as standard sizes (4x6, 4x7inches) by photo labs.
These will be suitable for Argus/Loreo and Holmes viewers.
Print multiple cards on a single sheet, mixing custom and classic if desired.
Print multiple images in various stereo-formats on a single sheet, including stereo cards if desired.
Canvas size feature allows you to save stereo-card image of defined size for later printing.
This allows you, for example, to print a 6"x4" card even if your printer does not support that paper size.
The entire fullpage background may be in a chosen color, not just the stereo-card background.


Capture stereo Google Earth images.
Add geographical data to image EXIF tag and jump to that location in Google Maps or Google Earth.
Up to 100 Undo/Redo operations.
Create wiggle/wobble Animated GIF's for unaided viewing and not requiring free-viewing ability.
Save BMP, GIF, animated GIF, TIF and PNG images with reduced colors to lessen file-size.
Rename images, retaining original numeric index if desired.
Display file properties and copy to clipboard.
Customize the initial, stereo, single-image or image file-list toolbars.
Add/Remove 'Open with SPM' to Internet Explorer's anchor and image context menus.
Creation of WebPages that use 'StereoPhotoViewer Applet' to display slideshows in a popup window or embedded in the page.
Fast preview of folder images as thumbnails and option to copy, move or delete selected images to existing or new folder.
Create an HTML file with Java Applet Stereo-Viewer support.
Create a stereo image for your NTT DoCoMo SH251is and SH505i mobile phones
Run an external programme to edit your images and then return them to SPM
Copy and Paste images to and from external applications
etc...
Operating System
Windows98SE/Me/2000/XP
Supported Image File Types
JPEG/BMP/TIFF/PNG/GIF/ Susie Plug-in
Screen Shot;

Main Window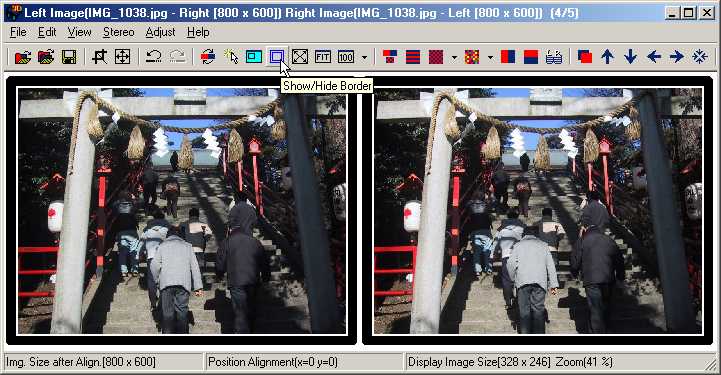 Easy Adjustment Dialog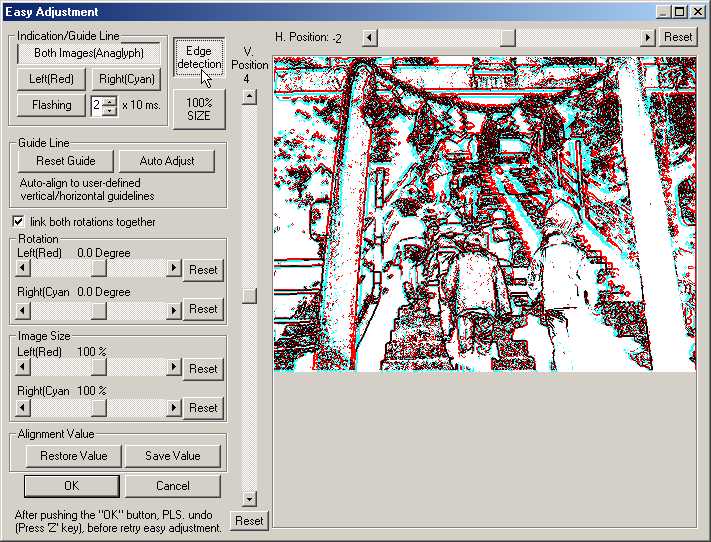 Licence for 'StereoPhoto Maker'
'StereoPhoto Maker' is Freeware and may not be included with any commercial products.
Licenses are not issued and distribution on CD is not permitted.
Customised versions for commercial use are not available.
You use the software at your own risk and no responsibility is taken for damage to person, software or hardware.
Masuji SUTO